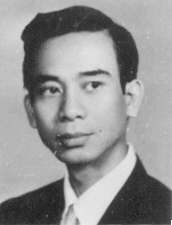 Hoang Anh Tuan (1932-2006)
Full name: Hoang Anh Tuan
Poet/ Writer/Teacher/ Movie Director /Reporter, born on May 7th, 1932, Hanoi Vietnam. Son of Mr. Hoang Hy Tuan and Mrs. Che Thi Chan Chau; grandson of Mr. Hoang Van Tuan & Mrs. Le Thi An and Mr. Che Quang An & Mrs. Ton Nu Hy To
1949: Studied in Paris, France

1954: Married to Ms. Ngo Thi Lien. Published his first book of poems "Ve Provins"
1958: Returned to Vietnam. Worked with several magazines and newspapers

1965: Became father of six children : Hoang Hon Tham, Hoang Anh Thep, Hoang Thu Thuyen , Hoang Huong Thao , Hoang Mac Tuyen and Hoang Thai Trang .
Directed the Radio Station of Dalat, Vietnam

1975: Political prisoner in Vietnam

1981: Arrived to America

2004: Published his book of poems "Yeu Em, Ha noi" in September 2004
2006: Passed away in San Jose, California on September 1, 2006 at 7:35AM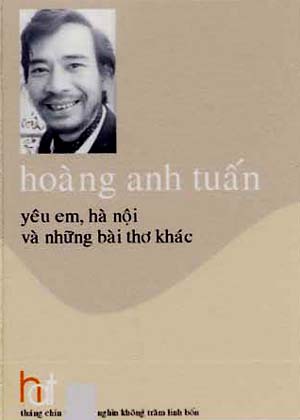 Souvenirs for Hoang Anh Tuan:


Please click tranhactran for audio


Details on the the first book opening
on Dec 26th, 2004 @ 3PM
located at Nguoi Viet Daily News Center, Westminster CA
Hoang Anh Tuan's Thank You Speech


The second book opening event ,
at San Jose California on April 17, 2005,
at Mission de la Casa , organized by Mr. Pham Hung and Ms. Khuong Phuong-Tram (Audio)

Hoang Anh Tuan has passed away on September 1, 2006 at 7:35AM at Mission de la Casa Nursing and Rehabilitation Center, San Jose CA

Funeral service was performed by Msgr Dominic Do Van Dinh, at St. Maria Goretti Catholic Church, in San Jose California on Sep 5th, 2006

Details on the Memorial Service in San Jose, California
on Sep 4th, 2006 @ 6PM at Oakhills Funeral Home, Chapel of Roses.

Details on the Memorial Service in Orange County, California
on Sep 10th, 2006 @ 2PM at Little Saigon Radio



Additional Links:

TrietVan.com
Nguyen Huu Vien
Nhan Ai, France click "T.N. Van Nghe Si", then "Van-Tho"
Cali Today
DacTrung.forum and DacTrung.net
Nhac Si Ngheo
Van Magazine - Hoang Anh Tuan Special Edition
Vinh Hao
TienVe.org
TaoNgo.Net
DienDan.org
Viet Bao Online
Van Tuyen
Van But Hai Ngoai
The Writers Post
Co Thom
TuDoVis.com
BBC
Trung Vuong
Dien Dan Dan Chu
LenDuong.net
Ngoc Phung: Canh Thuc Cung Tho Mong 12
DienAnh.Net
Saigon Time USA
Free Web Town
SuuTap.com
VN Exodus






A plaque for Hoang Anh Tuan was created at Christus St Catherine Hospital 701 S. Fry Road Katy, TX 77450
For inquiries, please send email to: thuthuyen


---


US Copyright Office Copyright (c)2003 Hoang Anh Tuan. All rights reserved.
This material may not be published, broadcast, rewritten or redistributed in any form.